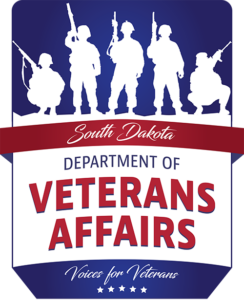 Veteran Services 
209 East Main Street, Suite 110
Elk Point, SD  57025
Phone:  (605) 356-2181
Cell:  (605) 670-8116
Fax:  (605) 356-3047
Email:  [email protected]
Veterans Service Officer:  Lisa Schenzel
Union County Veterans Service Office Schedule
Office hours are Tuesday and Wednesday, 8:00 A.M. to 5:00 P.M.
(For immediate assistance with a VA claim when this office is closed, please contact the South Dakota Division of Veterans Affairs at 1-800-316-8387, extension 9-6869.)
Responsibilities:  The Union County Veterans Service Office (VSO) educates and assists veterans and their dependents and/or survivors in applying for veterans' benefits including benefits from the Department of Veterans Affairs and the State of South Dakota.  Referrals are also made to other agencies that may have potential benefits for veterans.  Areas of primary activity are:
-Obtaining military records and discharges
-Death/burial benefits
-Education benefits
-Home loan certificates
-Non-service connected pension
-Service connected compensation
-State bonus program
-Survivors benefits
-Veteran affairs health care
Make an Appointment:  Please call (605) 356-2181 for an appointment or stop by during office hours.  For veterans unable to come to the office because of disability or health reasons,  arrangements can be made to visit the veteran.
Discharge Information: Veterans are encouraged to register their discharge information (DD Form 214, Report of Separation) with the Union County Register of Deeds Office.
The Veterans Crisis Line has a new number: Dial 988 then Press 1.
Effective July 16, Veterans have the option to use this new, shorter number to connect with caring, qualified responders for 24/7 crisis support.
During a crisis, every second counts. The new, shorter number directly addresses the need for ease of access and clarity in times of crisis, both for Veterans and non-Veterans alike.
This change is a result of the National Suicide Hotline Designation Act of 2020, which requires all telephone service providers in the U.S. to activate 988 by July 16, for the National Suicide Prevention Lifeline (Lifeline).
Because VA administers the Veterans Crisis Line through Lifeline's national network, access to the Veterans Crisis Line is updated by this transition.
For more information, visit the VA Suicide Prevention SharePoint.
Veterans and their loved ones will still be able to call 1-800-273-8255 and Press 1, chat at VeteransCrisisLine.net/Chat, and text 838255 to reach responders.
NEW PACT ACT INFO AND ADDITIONAL AGENT ORANGE PRESUMPTIVES AND AREAS:    https://www.va.gov/resources/the-pact-act-and-your-va-benefits/
---
Current VA news letter click below:
https://vetaffairs.sd.gov/publicaffairs/News Bulletins/2022/Sept222022SDDVASDDMNewsUpdate.pdf
Any questions, suggestions, please contact Lisa at 605-670-8116.